In 2011 a group of innovative and committed individuals crossed sectors and came together to impact the lives of Baltimore City students. The concept was simple—transform elementary and middle school libraries in some of Baltimore's most challenged communities into inspirational spaces, with the goal of improving overall academic achievement. The outpouring of support and excitement has been overwhelming.
In particular, the authors of The Baltimore Elementary and Middle School Library Project are deeply grateful for advice and guidance provided through three dynamic initiatives that also focused on library renovations:
The L!brary Initiative, a partnership of the Robin Hood Foundation and the New York City Department of Education, funded 58 library renovations from 2001-2009 throughout New York City.
The Capitol Hill Community Foundation led a public-private partnership with DC Public Schools to complete eight library renovations in 2006 and 2007 within the Capitol Hill community. Driven by volunteers, all eight renovations were completed on time and under budget.
The Baltimore Community Foundation's Library Funds renovated three libraries in Baltimore City from 2001-2008. Spearheaded by the vision of two community leaders, this initiative laid the groundwork for the Baltimore Library Project.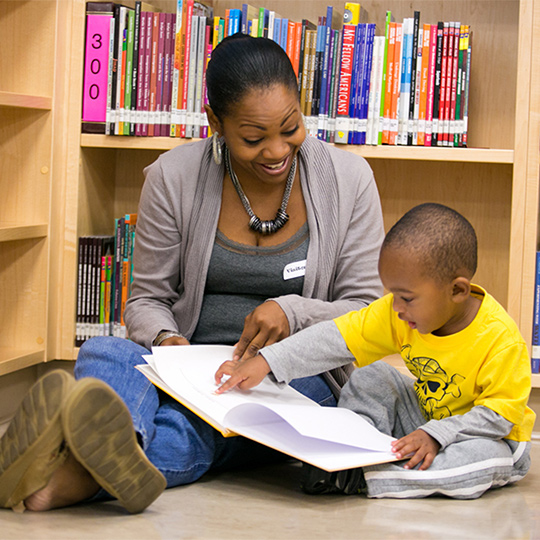 The Baltimore Library Project engages leaders from multiple organizations and across sectors, each contributing uniquely to the initiative as a whole, as well as individual libraries. Every new library space is well designed, well made, flexible and durable, and includes the latest technologies and features such as iPads, computers, a dedicated space for parents/guardians, informal reading areas, and separate areas for study and research, instruction, and group discussion.
By creating school libraries that are not only more contemporary and functional, but also fun and inviting, the Weinberg Foundation and its partners have seen these new spaces contribute to children's love of books, as well as help them to develop critical reading and thinking skills. Many studies nationwide, including prior evaluations, were premised on findings that well-resourced and staffed school libraries positively impact academic achievement. In order to potentially add to these findings, a new evaluation of the Baltimore Library Project is underway.
In addition, spaces created through the Baltimore Library Project engage families and the entire community. This engagement occurs, through partnerships, extracurricular programs, and enrichment programs including SummerREADS. Library Project schools also serve as access points for supplemental services such as food, backpacks, and winter coats.
For each new library, the Foundation contributes four years of operating support. This is in the form of a staff position, professional development, and activities that enhance the use of the space. The Foundation contributes an additional two years of support if the library continues to maximize the space, as well as available partnerships.